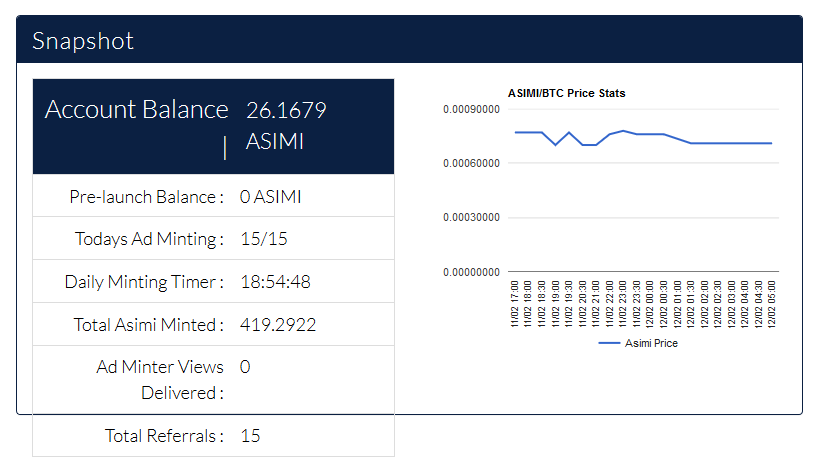 Hashing ad Space je bio u prelaunch-u 2 mjeseca. I sada radi skoro 2 mjeseca. Ima preko 100 000 članova i taj broj
rapidno raste svaki dan.Dok je bio u prelaunch moglo se besplatno zaraditi Asimi token gledanjem reklama,od kada je startao mora se imati Stake paket da bi se gledanjem reklama zaradio Asimi. Kolko Stake paketa imate tolko dnevno možete pogledati reklama,Stake paket donosi dobit 1 godinu.
Na Hashing ad Space se gledanjem reklama zarađuje Asimi token.
Uskoro će se opet dati mogućnost da članovi mogu besplatno zaraditi Asimi tokene, kao što smo to mi mogli prije zvaničnog početka rada.
To znači da će novi članovi svojom dnevnom aktivnošću moći zaraditi Asimi tokene i s njima kupiti Stake pakete, koji nam
daju mogućnost da 365 dana zarađujemo svaki dan gledajući 1 reklamu. Koliko stake paketa – toliko reklama.



Asimi nije imao ICO.I mada ga je moguće za Bitcoine kupiti na Wave platformi, zatim prebaciti na Hashing ad Space i kupiti Stake paket.
Hashing ad Space je stranica za reklamiranje poslova.Na kojoj vlasnici internet poslova i njihovi članovi mogu reklamirati te poslove. Cijene reklama su stvarno vrlo korektne i svatko
ih može vidjeti na stranici u cjeniku. Vlasnik posla je Luke Millard. I ovaj posao je vrlo brižljivo pripremio prije samog starta. Povezan je sa svim vodećim ljudima internet poslova i to se odražava u svim bitnim segmentima posla. Ovo je ujedno i izvor zarade nas koji radimo za Asimi tokene.
Asimi token se stabilno drži na vrijendosti između 1,50-2,00$. Ovdje je klik cca 1$ i isplate idu u roku od 24-72 sata.